Mark Newton
About me
I've been flying various types of aircraft since 1999.
My introduction was in VH-KRO, a Krosno KR03A Puchateck, at the Adelaide University Gliding Club's airfield in Lochiel, South Australia. Over the ensuing years, I trained, built up skills, and developed through the GFA hierarchy, including a three year stint as AUGC's Chief Flying Instructor.
Seeking novelty, in 2008 I commenced training for a CASA Private Pilot License (PPL) with Forsyth Aviation at Parafield in Adelaide, under the erstwhile tutelage of Bev Roediger, Sarah Allen, and Mike Foley.
I acquired VH-SOL in 2011, in syndicate with two other Adelaide pilots. I bought-out their shares when I moved to Sydney in 2013, and have been upgrading the airplane ever since.
In my day job, I'm a network engineer for an internet company. No, I can't fix your Windows computer.
Flight Experience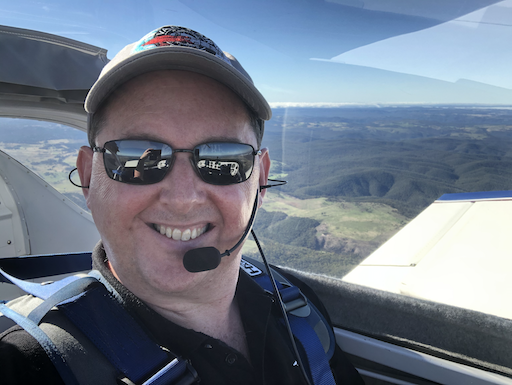 Glider ratings:
FAI Gold Certificate with two diamonds
DA.1109 Component Replacement airworthiness rating
GFA Level 2 Instructor rating
Touring Motorglider endorsement
General Aviation ratings:
CASR Part 61 PPL(A) Private Pilot License
Design feature endorsement for tail wheel undercarriage
Design feature endorsement for retractable undercarriage
Design feature endorsement for manual propeller pitch control
Flight activity endorsement for aerobatics and spinning
Flight activity endorsement for low level aerobatics not below 1500AGL
Flight activity endorsement for formation flying
Flight activity endorsement for formation aerobatics
Night VFR rating
Class 2 medical certificate
Private Instrument rating with the following FPAs:

GNSS Enroute
VOR Enroute
DEPS departure
Visual circling
GPS holding
3D ILS
2D RNP
SID
STAR
Night

CASA Display Pilot authorization
---